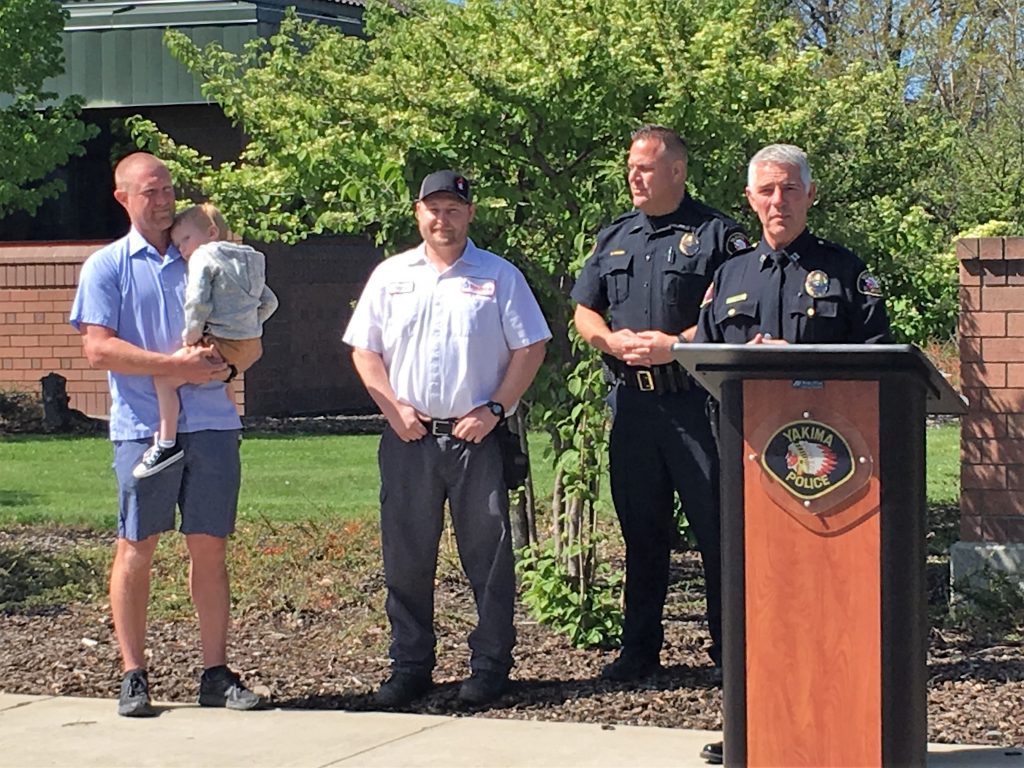 The Yakima Police Department (YPD) recognized Clinton D. Hayes and Kyle Friedrich today, Tuesday, April 30th, with commendations for their actions in helping police apprehend suspects in two violent crimes.
"On March 26th, 2019 Clinton Hayes was on top of the roof of a local business working when he heard a woman down below screaming for help. Mr. Hayes realized the woman was being threatened by a male subject. While watching from above, he saw the male running away from the scene of where the woman had been screaming for help," Interim Police Chief Gary Jones stated in the commendation for Hayes. "Mr. Hayes climbed down from the roof and began giving chase of the subject, placing himself into harm's way."
"On April 15th, 2019 Kyle Friedrich was driving his United States Postal Service mail truck on South 2nd Street when he noticed a male assaulting another male that was now on the ground and bleeding. Mr. Friedrich placed himself into immediate danger by intervening between the victim and the suspect, preventing further assault and injury," Jones said in the commendation for Friedrich. "The suspect fled and Mr. Friedrich gave chase on foot, catching up with him and knocking him to the ground and awaited police arrival."
They were honored during a brief ceremony today, Tuesday, in front of the Richard A. Zais Jr, Center for Law and Justice, 200 S. 3rd Street.
Jones said both cases ended without further incident due to the "selfless and courageous demeanor" demonstrated by Hayes and Friedrich.
Visit https://yakimapolice.org/ or call 575-6200 for more information about the Yakima Police Department.