Careers
Protecting and Serving the People of Yakima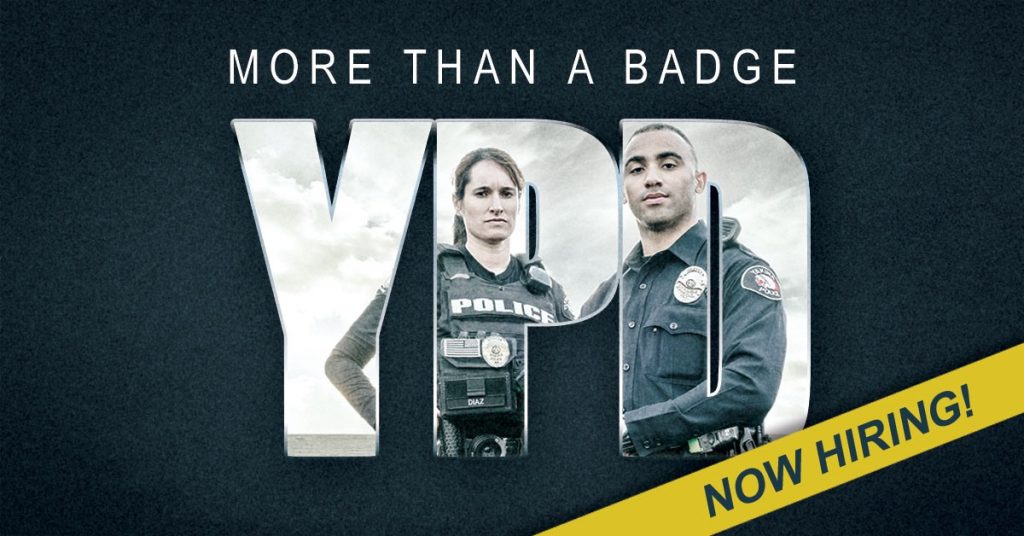 The Yakima Police Department is comprised of exceptional employees who have a strong desire to make a difference in the Yakima community.  We are looking for individuals with high integrity to join our innovative and professional team. If this describes you and the type of organization you would like to be a part of, contact our Recruiting Officer, Hailie Meyers, at (509) 575-3559 or hailie.meyers@yakimawa.gov.
Interested in becoming a Police Officer for the City of Yakima?
The Yakima Police Department offers exceptional professional career opportunities for qualified men and women who are committed to making a difference in our community. We invite you to join our team of dedicated professionals in a work environment that values uncompromising honor, integrity, fidelity, and courage. Working for the Yakima Police Department will allow you to make a positive difference in the lives of others on a daily basis.
A career as a Yakima Police Officer provides challenge, excitement, variety, teamwork, and job satisfaction. There are opportunities for lateral movement and training for specialty assignments, including Traffic and Motors, Narcotics, K-9, School Resource Officers, Detectives, Firearms Instructors, Field Training Officers, and the Critical Response Team (SWAT and Hostage Negotiations).
We offer a comprehensive pay and benefits package to our Police Officers, including:
Medical/Dental/Vision
– EBMS: Employee Benefit Management Services
– Delta Dental
– VSP Vision Care
– MiCare Clinic: City-provided healthcare clinic available to employees and dependents on the City of Yakima Healthcare Plan
Washington State LEOFF II Retirement
Life Insurance provided by the City
12 Paid Holidays, Annual Leave Accrual
Education Incentives
Take Home Cars for Each Officer
Includes Off Duty Use
Specialty Unit Pay
Bilingual Certification, Narcotics, Traffic/Motors, Gang Unit, Investigations, Field Training Officers, SWAT, K-9
What is the hiring process?
Public Safety Testing (publicsafetytesting.com) conducts the initial written and physical agility testing. The applicants who pass these initial tests are then forwarded to the Yakima Police Department for an oral interview. Applicants are then ranked based on the combined scores of the written, physical agility, and oral interview. The Yakima Police Department hiring process is a multi-step process and may take up to six months for entry level applicants.
Applicants must pass an extensive background check—regarding the applicant's aptitude, character, judgment, credit, driving record, criminal history, a medical exam, psychological exam, polygraph exam, and a second physical agility test.
Upon appointment, applicants will complete 720 hours of state testing at the Washington State Criminal Justice Training Center Basic Law Enforcement Academy (BLEA).
Upon graduation from the academy, probationary officers enter the Field Training Program and are partnered with an experienced officer for 14 weeks.
What are the minimum qualification standards?
Persons seeking employment with the Yakima Police Department must possess the highest standards and abilities, including:
Applicants must be 21 years of age of older.
Be a US citizen or lawful permanent resident.
Must have a good command of English, both written and verbal.
Be a high school graduate or equivalent.
Must be in good physical condition, good moral character, and capable of performing the full range of required duties, including physical control of violent offenders.
Must possess normal color vision, and visual acuity of not less than 20/100 in each eye, corrected to 20/20 in the better eye and 20/30 in the lesser eye.
Must be able to meet and maintain the department standards for firearm qualification and all State and Federal laws to possess and carry a firearm.
Lateral Officers
The Yakima Police Department is also recruiting lateral officers. In addition to the standards and abilities listed above, these officers must be currently certified as a law enforcement officer in their home state, have two years continuous law enforcement services within the last three years, and must successfully complete the WSCJTC Equivalency Exam within one year of employment.
Additional Career Opportunities Within the Yakima Police Department
Civilian (non-sworn) police employees are responsible for many of the important functions within the department. We hire civilian positions for a variety of roles in the Department such as Communications (911 Calltaker and Dispatch), Corrections, Police Services and Records, and Administrative functions.
For more information on these positions, please visit the City of Yakima Job Descriptions.